The definition of the best eCommerce platform is a platform that has all the functions and features allowing you to make a full-fledged store with ease. So as per this definition, there is no one platform that can fit everyone's needs because of the difference in features which is why I have created this list of the 8 best eCommerce platforms to start your online store in India.
It contains all the most popular, trusted, and feature-packed platforms on the internet that people are using and crushing their competition. So if you want to find your eCommerce platform that is perfect for your needs, I suggest that you go through all nine of them and then decide which one is for you:
Best eCommerce Platforms in India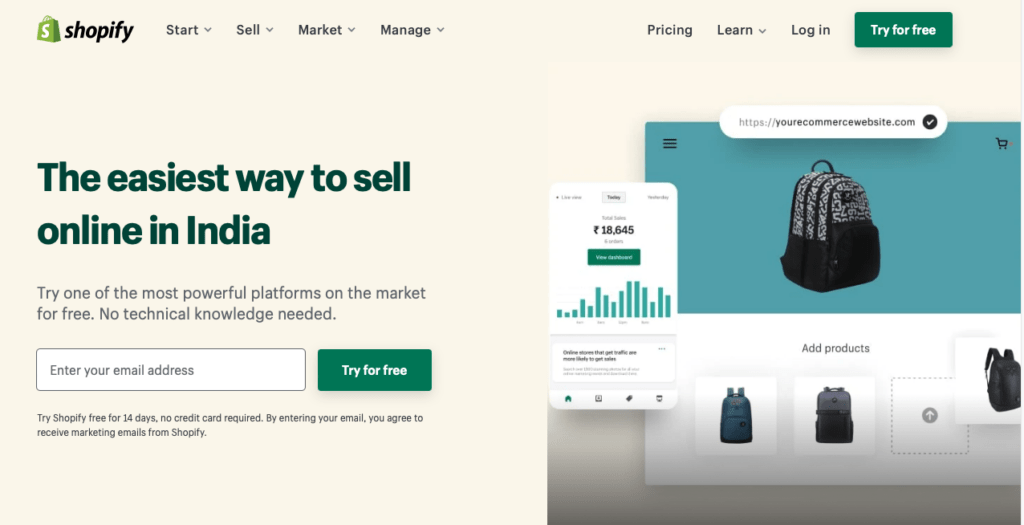 Definitely, the best eCommerce platform and the biggest competitor of WooCommerce, Shopify has achieved tremendous growth over the last few years.
The reason it has around 500,000 paying customers is because of its easy-to-use drag-and-drop builder that enables you to create a website from scratch without writing a single line of code. You can think of Shopify as a WYSIWYG builder but specifically for eCommerce websites.
Besides the website builder, you will also get access to a massive library of free and premium themes with exceptional design.
Since the appearance of a store captures the eye of the customer, your website with a beautiful theme will do the same.
Some primary features of Shopify are:
Shopify store management allows easy handling of your store and customers
Get hosting for the website from Shopify without any extra cost
An intuitive and elegant dashboard that is very easy to navigate
Pre-made themes are also optimized for mobile devices
Multichannel support ranging from live chat to Facebook and Twitter
---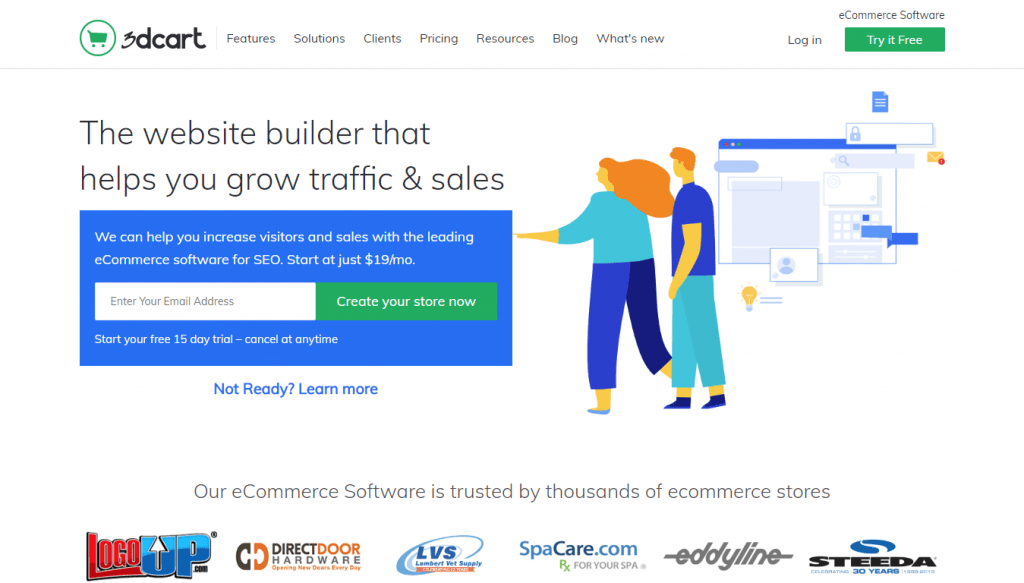 There are a plethora of eCommerce platforms that are trying to compete for the number one spot but out of them, 3dcart has proven to be a trailblazer. It was established in the early 2000s and the heap of useful features and add-ons quickly started drawing customers towards 3dcart. The company claims to be very simple but contains all of the features one needs to grow an online business.
Most of the eCommerce platforms are simple but lack necessary features, 3dcart however, stayed true to their claim and kept on introducing features with the need of time.
3dcart comes with a simple and easy-to-use WYSIWYG editor, tons of SEO tools, and an arsenal of marketing add-ons that are ready to be used. Although there are more than 60 premium and free themes available with 3dcart, if you have the expertise or skills, you can create your own website from scratch. Some features are:
Real-time tax and shipping calculations
Works with more than 200 payment gateways and no transaction fee
Offers unlimited bandwidth and also has built-in reporting
Comes with hosting and security
Support is available 24/7 for 365 days
---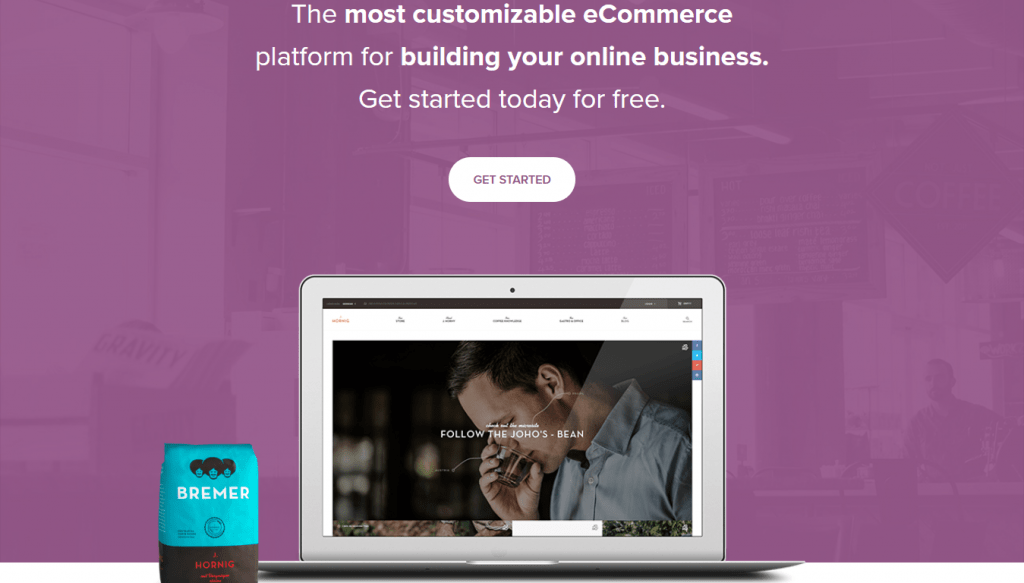 One of the most user-friendly solutions for eCommerce management, WooCommerce is definitely the most widely used eCommerce platform out there with an astounding 29.11% market share as per Datanyze.
WooCommerce is actually an open-source platform and also a dedicated plugin for WordPress so you need to have an active website on WordPress to leverage the WooCommerce platform. Although WooCommerce comes with a free standard theme, Storefront, this is the only theme you get for free which means many other stores might be using it.
So if you want to appear unique, you want to consider getting a premium theme from a theme marketplace. As for SEO, WooCommerce gets full marks because it comes with all the SEO options one might need, however, you will still need SEO plugins like All in One SEO Pack, Yoast SEO, and so on.
Some of the main features are:
Sell both physical and digital products and also add affiliate products to your store
You can add unlimited variations for products
Comes with a range of shipping, rates, and tax options
Has innovative features like a rating system and product reviews
Free to use with WordPress and offers a free highly customizable theme
---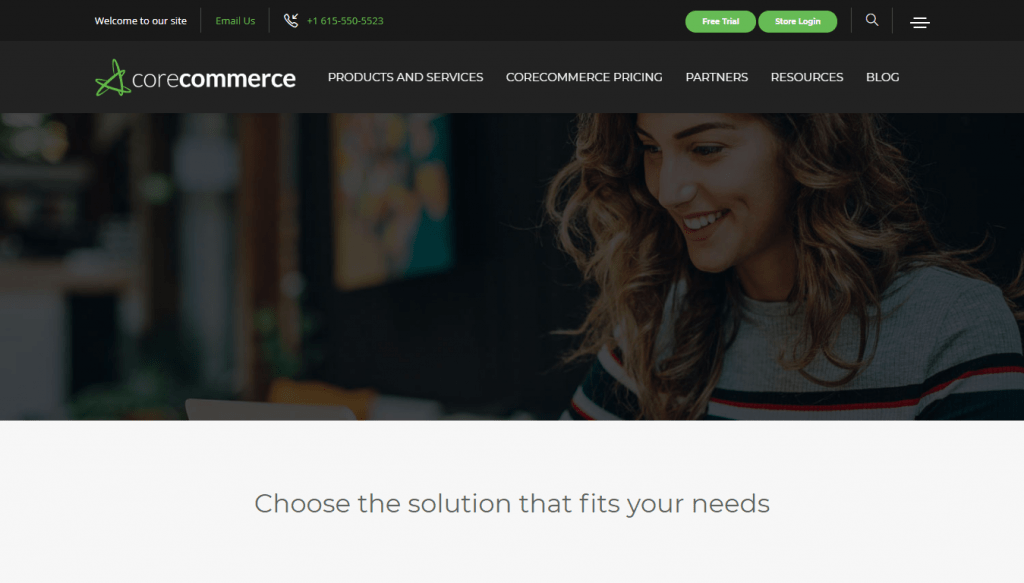 Next on the list of best eCommerce platforms is CoreCommerce which is designed with a multitude of features that allow retailers to sell their services and products online with ease. CoreCommerce was established in 2008 and since then, due to its big leaps and bounds, the company has grown a lot with over 13,000 online stores under its belt. 
However, the platform is not just worth considering because of its customer base, it offers tons of useful features such as free shared SSL, no transaction fees, lots of themes, auto-updates, free translations, and much more. On top of all, you can try it for 15 days without providing your credit card credentials. Some features are:
Highly responsive template designs
Detailed reporting tools
Secure hosting with 99.99% uptime
Easy to integrate with various add-ons
---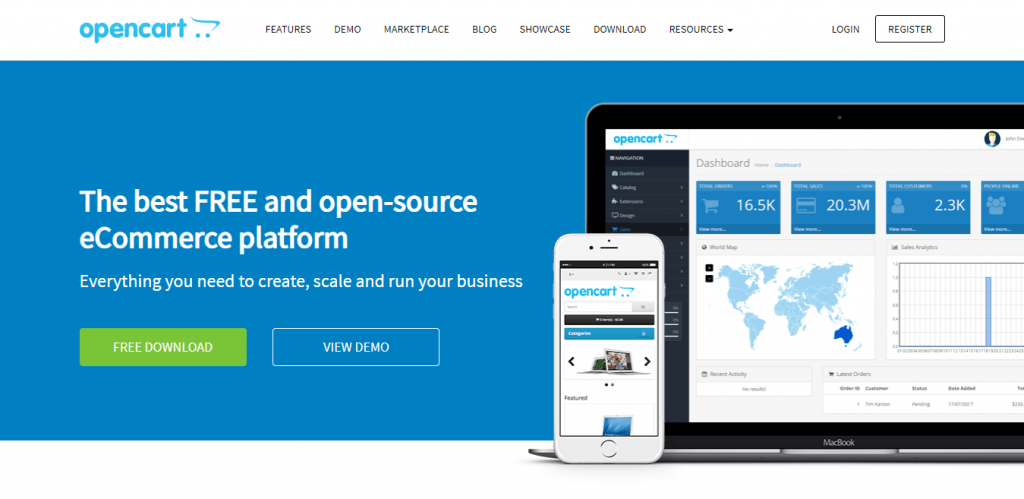 An open-source platform for online shopping that is free to download and use which means besides the features, you can customize the platform itself as per your needs. The best part of using the OpenCart platform is that it comes with free updates and customer support without any catch. One of the most impressive things about Open Cart is that it has been implemented into over 300,000 websites making it a highly credible solution.
In terms of features, besides being a free-to-use platform, it packs all features and functionalities you might need to succeed with your eCommerce store. Some key advantages are:
Add unlimited products and categories
Multilingual and multi-currency support
Setup advanced filters for eCommerce
Innovative features like product ratings and reviews
Access all the information and stats through the dashboard
---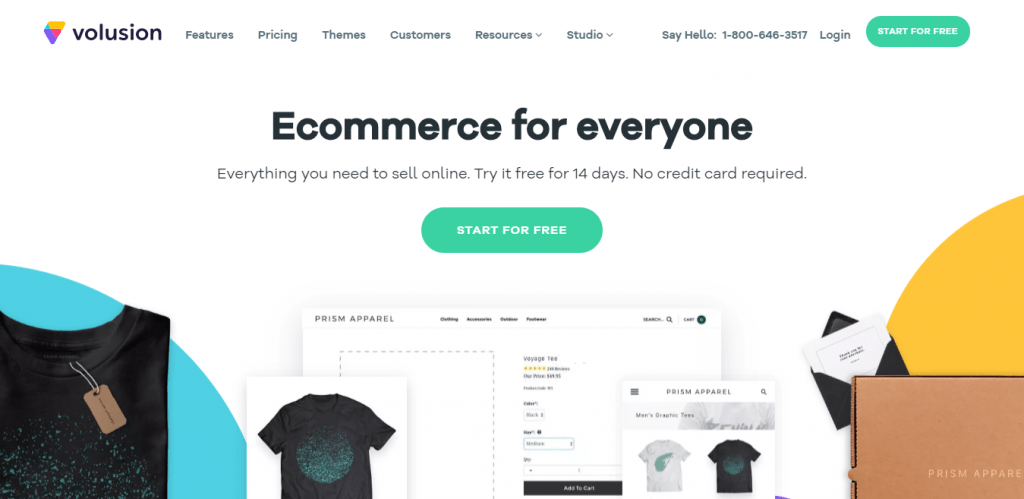 Launched in 2002, Volusion has emerged as one of the best eCommerce platforms allowing retailers to sell their physical goods with ease. It comes with a user-friendly website builder that has drag-and-drop functionality and allows in-page editing as well. The platform offers 11 free themes and also has a range of premium themes that can cost up to $180, plus, you need to purchase your own SSL certificate.
The biggest drawback of Volusion is that it doesn't come with blogging functionality because blogs have a key role in SEO nowadays. However, if you use a third-party CMS like WordPress, you can do blogging as well. Some of its key features are:
Pretty flexible with Sitemaps
SMB friendly
The dashboard is laid out pretty well
The marketing and inventory system is very neat
Built-in recurring payments
---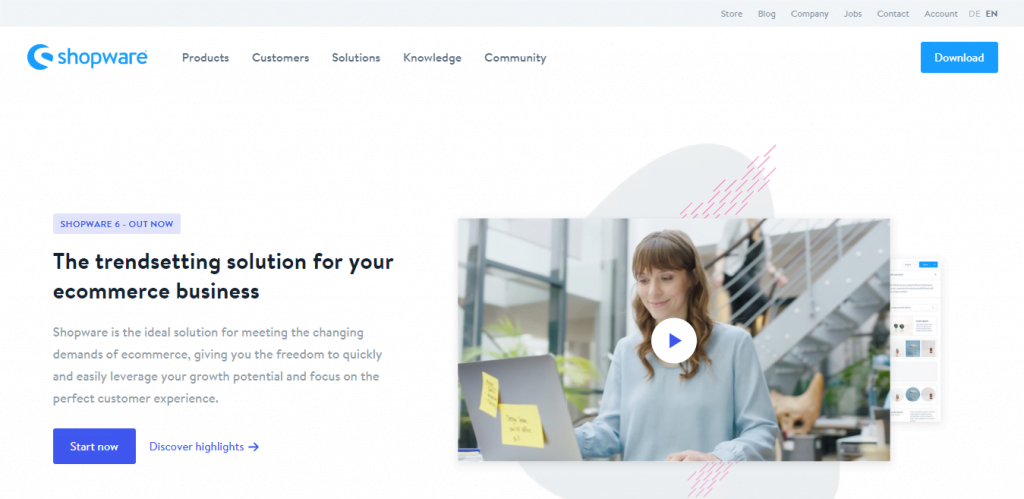 A very popular and widely-used eCommerce solution that is robust and offers a high degree of scalability. The best thing about Shopware is the flexibility that allows businesses to use it as per their needs and offerings. Also, it comes with marketing features and SEO capabilities that make it very helpful in getting your products out there. Moreover, the back-end configuration of the platform is pretty easy and you can do it by yourself without any training.
Shopware comes packed with a hoard of features that are fitted in an intuitive interface making it easy for the user to find and leverage them whenever needed. This ease of use and scalability is the reason why many big brands like Segway and L'Oreal use this platform. Some key features are:
Extendable through plugins
Product and customer streams
Natural workflow with excellent support
Allows digital publishing
Constantly improved by the team
---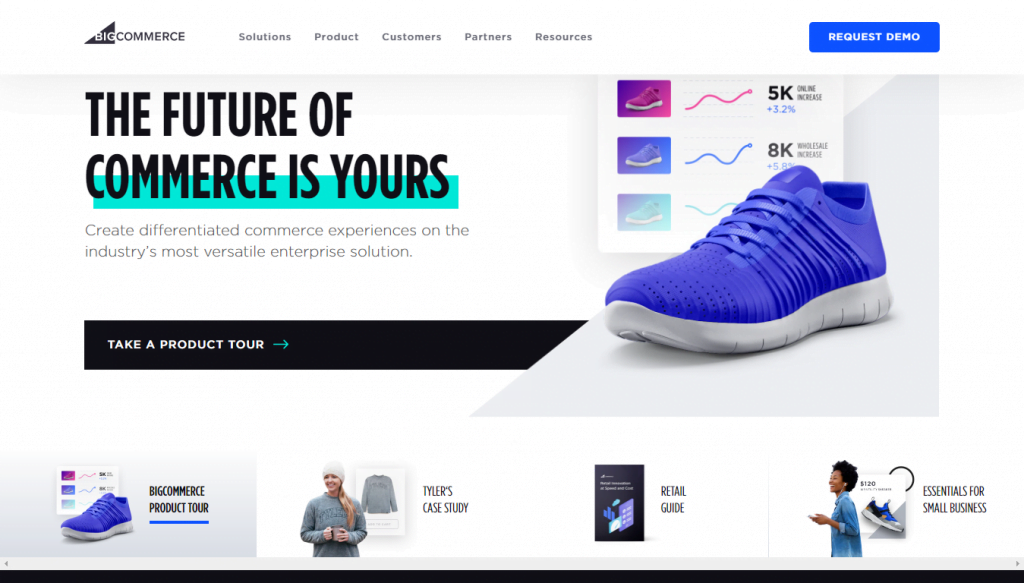 Even though it is a relatively newer platform, Bigcommerce has already made it into the list of best eCommerce platforms mainly because of its powerful website builder and detailed customization. Currently, the platform has over 40,000 websites leveraging its features and it is only getting bigger with time. There is no doubt that soon it will become a tough competitor for big eCommerce platforms.
Although it is a little pricey because you might need to purchase one of their premium themes, the multitude of features this platform has to offer are worth the cost.
Test the changes you made before publishing
Their hosting offers 99.99% uptime
Easily migrate your existing products and stores to BigCommerce
Mobile friendly with mobile payment options
Can integrate with 3rd party email marketing solutions
---
Over to You:
There are many other eCommerce solutions out there but the reason for only mentioning these nine is because these are simply the best eCommerce platforms based on user reviews around the internet and personal experiences.
So if any of these platforms have caught your interest, I suggest that you learn more about them, check user reviews, their pricing, and features, and then decide if this is the platform for your store.